2020 Soribada Music Awards is coming soon in August. Voting for your idols will start around June which will be next month. Previously, fans who are living outside of South Korea can register Soribada account by themselves. If you have unverified Soribada account, do not log out on your current accounts now because it will require you to verify a Korean number once you log in! Yeah. Soribada has made changes on registration as Melon. Fans need a Korea Phone Number to create Soribada account. Where and how can we get verified Korean Phone Number Soribada account?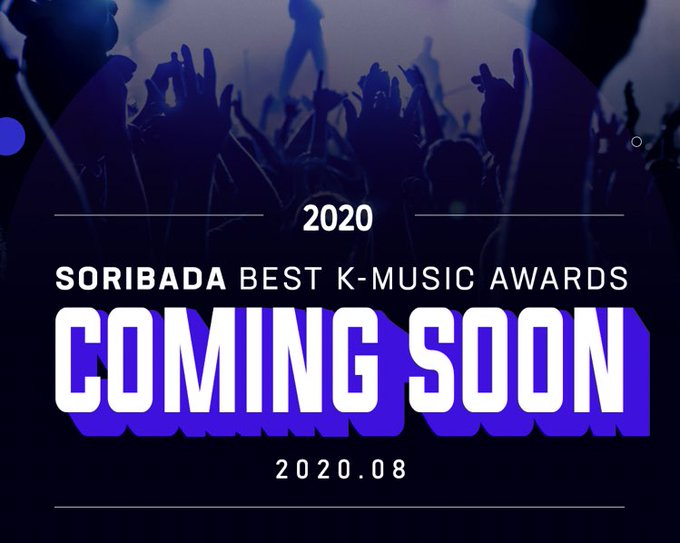 Two Ways To Get Verified Soribada Account
Ask help from Korean friends to register Soribada account, or find a way to buy verified Soribada account. What we recommend the reliable site is OBTGAME. We bought verified Melon, Genie, FLO account too from the site. Certainly, You can also buy Soribada streaming pass or Soribada point on the site.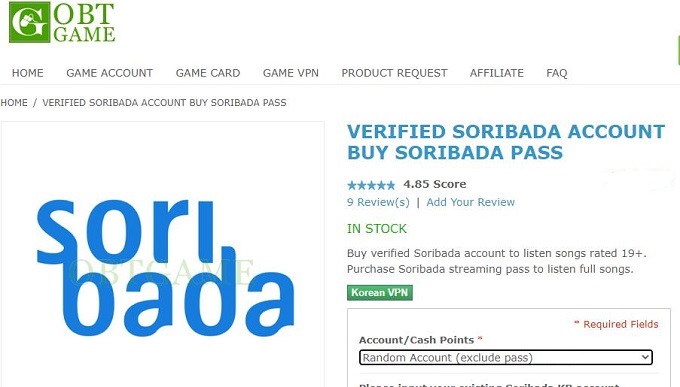 How to Collect 5 Stars with Verified Soribada Account
Fans can collect 5 Soribada stars daily. Start collecting stars on Soribada App daily and save them for the upcoming award show. Don't forget to collect stars on Soribada. We can vote stars to our idols. Read instructions as below before collecting 5 Soribada stars.
Download Soribada App. For Android users, just download Soribada Apk file from https://bit.ly/3enM2CA; for iOS users, read ultimate guide to create South Korea Apple ID without payment.
Get verified Korea phone number Soribada account. Run Soribada App, Login your ID and password. Then you can start to collect stars and points. Don't forget to open Soribada App everyday, and get 10 points one day. You can help digital and download 1 song with 770 points. If you have a pass, you can get 5 stars on an hourly basis, if you don't have a pass, you can only collect 5 stars per day. Let's start collecting stars and points from now on. You can buy Soribada points to get many starts. Follow the steps as photo below to collect stars.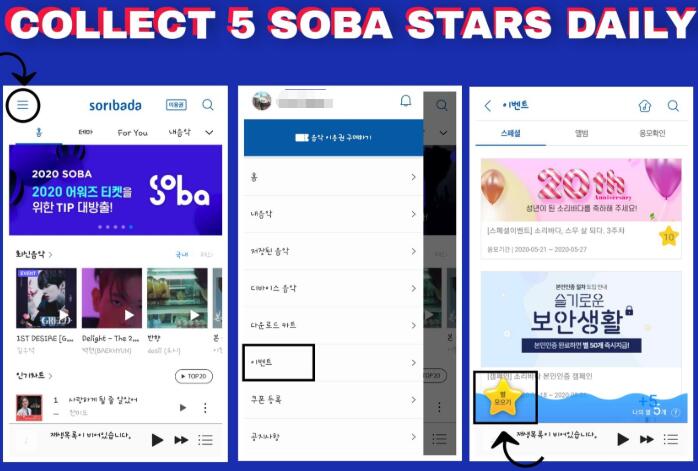 How To Vote 2020 SOBA Music Awards
The 2020 Soribada Awards voting had started. Are you ready to vote for your idols. There are some points as following you should know before voting, let's check!
Only verified accounts with Korean phone number can vote. Buy Soribada account now
Vote up to 100 stars per day
Criteria for Bonsang: Voting – 30%, Digitals – 50%, Judges – 10%, Committee – 10%
Voting ends: August 3 at 3PM KST