Melon often publish some free Streaming Pass event. Hence, if some fans can't aforad Melon pass, they can take part in event to win free Melon pass. But only limited verified korean phone number account can win the gift. If you are wondering how to join Melon X Getorade New event, just follow me step by step.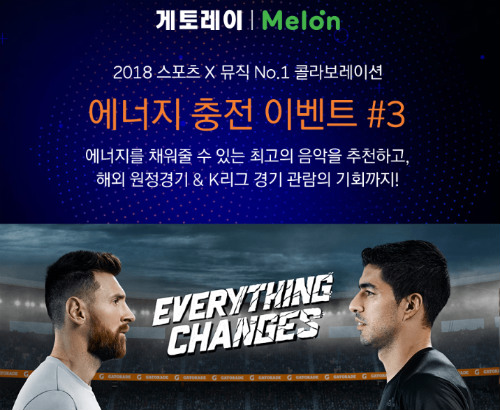 Important info you should know on free Melon Pass event
Only For Verified Account
No Active Streaming Pass
Deadline event: July 18,2018
Deadline activation: January 31,2019
Tutorial for Get Melon Free Streaming Pass Coupon
Fans who have verified Melon account can get two coupons of 30 songs streaming in 30 days in the event. The point is to get verified Melon account, if you can't find Korean phone number to verify your Melon account, you can buy verified Melon account from OBTGAME.
How To Get First Coupon of free Melon Pass
Visit https://www.melon.com/event/gatorade3/tab1_view.htm to win the first coupon. Previously, I have wrote tutorial on how to Get Free Melon Streaming Music Pass: Listen 30 Songs in 30 Days. The steps are the same. Shortly, login verified Melon account, visit the event page, type the song name to search, then you will get tfree Melon Pass of 30 songs streaming in 30 days, you can activate the coupon before the deadline activation. Please don't activate the coupon instantly, otherwise, we can't get the second coupon.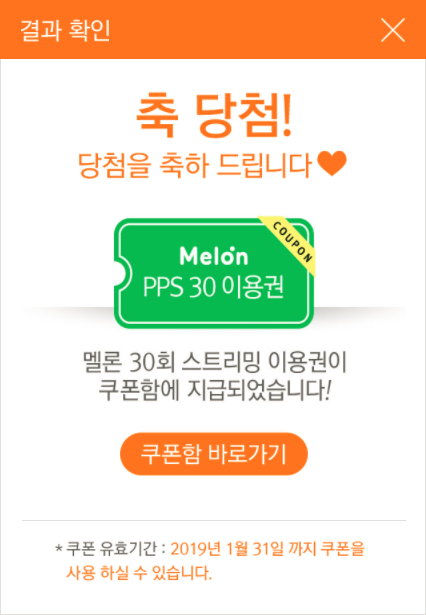 How To Get Second Coupon of free Streaming Pass
Tap the Event 2 as photo below.

Scroll down and write comment and sumbit. You can type anything you want.

Tap the purple button to get the second coupon of free Melon pass. Please note there is no activte pass in your account, otherwise, you can't get the second coupon.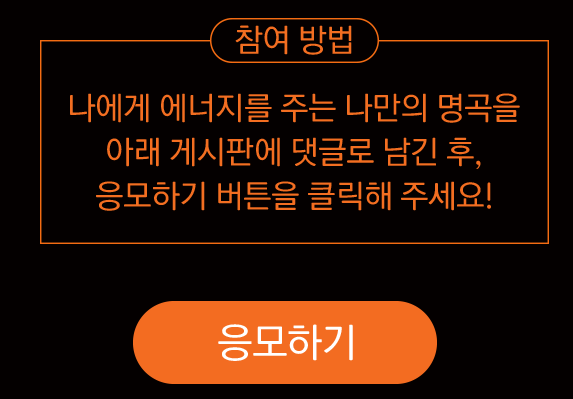 How To Activate Free Melon Pass Coupon on PC, Android, and iPhone, iPad
Fans can save coupons for idols come back. Also the coupon's deadline activation is on 31 January, 2019. So we should know how to activate free Melon Pass coupon when we want to use.
For PC users, visit https://www.melon.com/commerce/mypage/coupon/web/couponbox_couponBoxView.htm to check coupon box. Tap the button to activate the coupon.
Tap ok. Then your Melon account can listen 30 songs.

For iPhone, iPad users, visit m.melon.com to activate coupon. It seems users can't activate coupon in iOS App.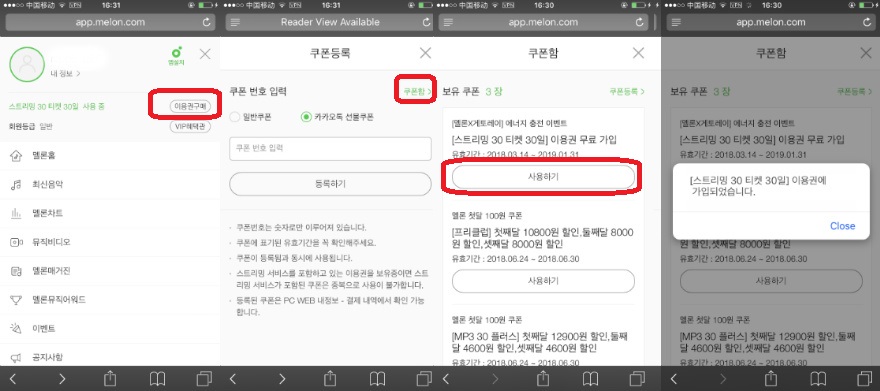 For Android users, it is able to activate in Android App. So please refer to the photo above for iOS users. It is the same step as on melon mobile web page.
Conclusion
International fans are trying their best to support their idols. Whatever you are looking for ways to get verified Melon account, free Melon Pass, activate free Melon Pass coupon on iPhone, iPad, Android. The article is very helpful for you. Finally, I want to give readers some tips while using Melon account. Don't change IP address to login, login on multiple device, share account to others. Please use South Korea VPN if you can't use Melon App in your country. Get verified Melon account and take part in Melon free streaming pass to get 2 coupons and start your music journey.