Tons of games are available on XBOX 360, XBOX One, PS3, PS4. But not all players can afford to buy XBOX or PlayStation. So millions of players want to play games of XBOX/PlayStation on mobile device. Here, I will show you how to play XBOX/PlayStation games on Android with Gloud Games.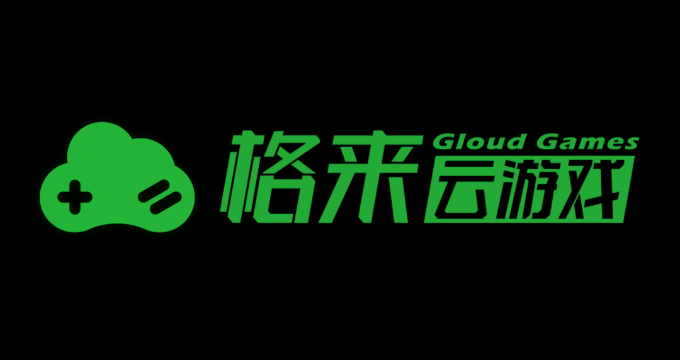 Gloud Games is a cloud game platform, developed by 51ias. Players can use the product to play games require high features, 3D games limited on game console. There is no need to download and install. Players can play numbers of games with Gloud Games to break device's limitation.
How To Download Gloud Games Apk for Android Device
It seems that Gloud Games Apk file is only available on 51ias website and Chinese Android App store like Wandoujia. Anyway, players can download Gloud Game Apk file from its website. Some guys complain the download speed from its Chinese website is very slowly. If you get the same situation, download Gloud Game Apk from Mega. There are two versions. Players can choose any one to download.The Gloud Games Android App requires operating system 4.0 or later.
Download Gloud Games Apk file V1.3.7 from Mega
Download Gloud Games Apk file V2.2 from Mega

How To Bypass the Region Restriction of Gloud Games – it is only available in China
Gloud Games App is a Chinese games. It is only available in China. When you launch the App from outside of China, you will get error message as "Sorry, our service is limited to China only". Its system recognize IP to confirm location. So we can get connected to China VPN to get Chinese IP address and bypass the region restriction. Highly recommend FlyVPN. Its free version is offering several China VPN servers. Players can get it from Google Play Store.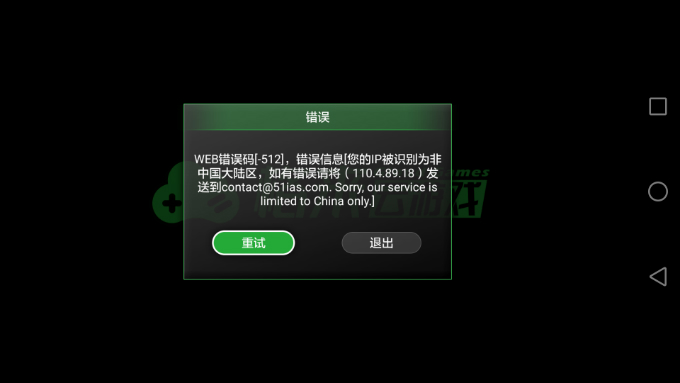 If you want to run Gloud Games without VPN, ahead to Clear Data of this application. Then use the App as normal. If you still can't bypass the restriction, you can only use China VPN.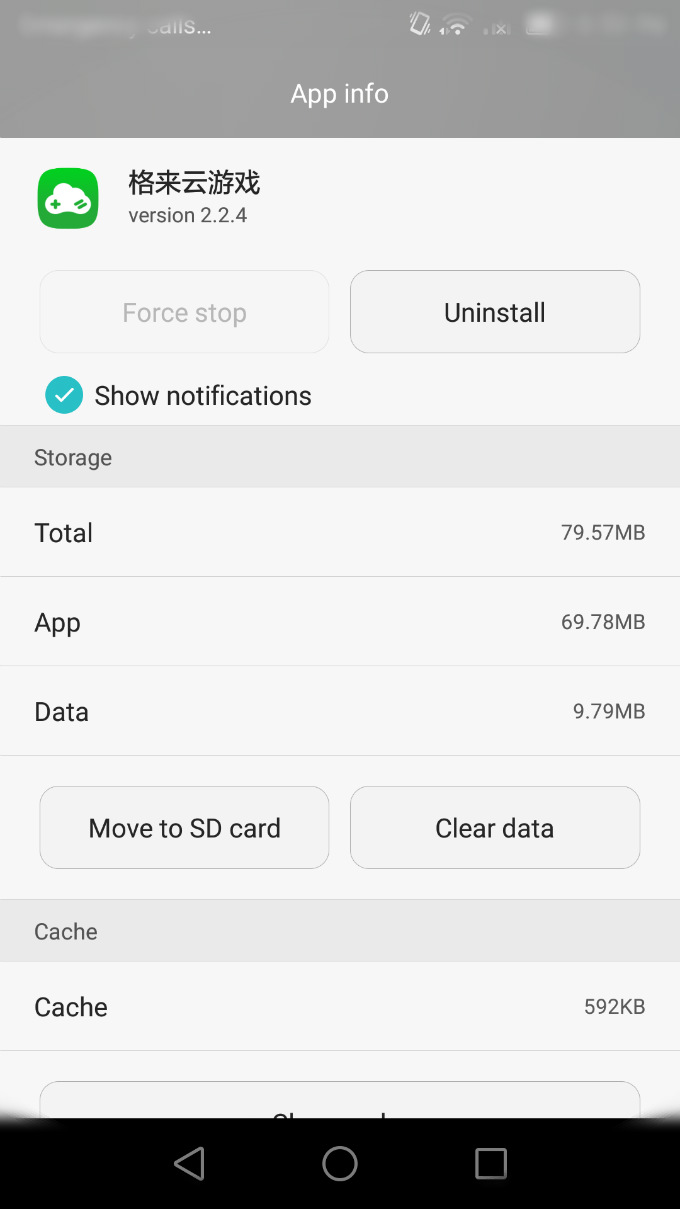 How To Play Full Games Of Gloud Games On Android
Are you looking for ways to play WWE 2K17, WWE 2K16, FIFA 15, Dragon Ball on Android? Gloud Games App does work for those games. But most of games are not free. It offers demos about 20 minutes for try. If you want to get full games of those paid games without limitation, you can choose to earn Cloud Coins, when you want to use Cloud Coins to top up for games marked VIP and SVIP, you must buy membership first, or buy G Coins which can be used to top up for any games. If you want to buy VIP, SVIP, G Coins or Cloud Coins, welcome to consult the seller on Skype zoi0607.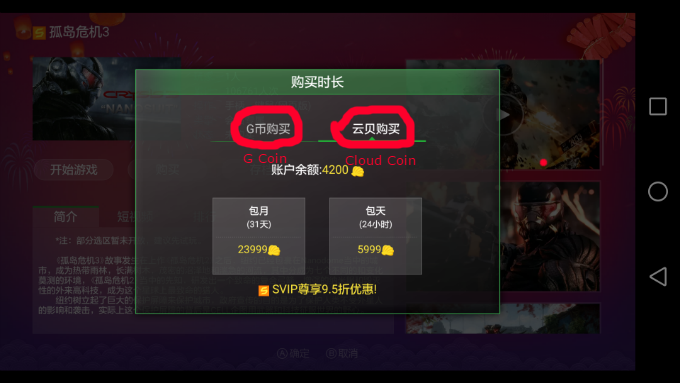 How To Earn Cloud Coins To Access Full Games for Free
You can login as Guest (游客登录), or create Gloud Game account with Chinese phone number or email. Players can Sign in everyday or finish tasks to earn cloud coins, follow the guidance as below.
Tap the task button to earn cloud coins.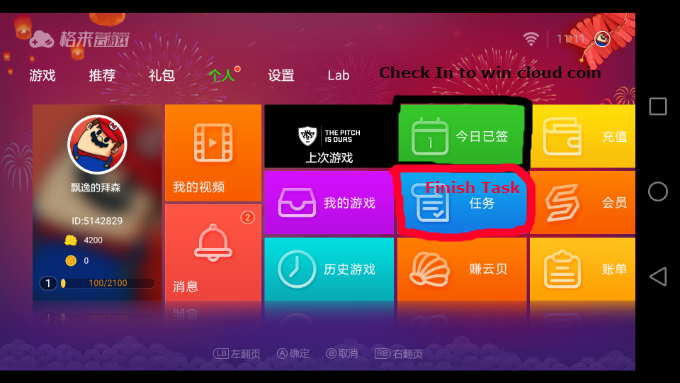 Tap the area as photo to finish task.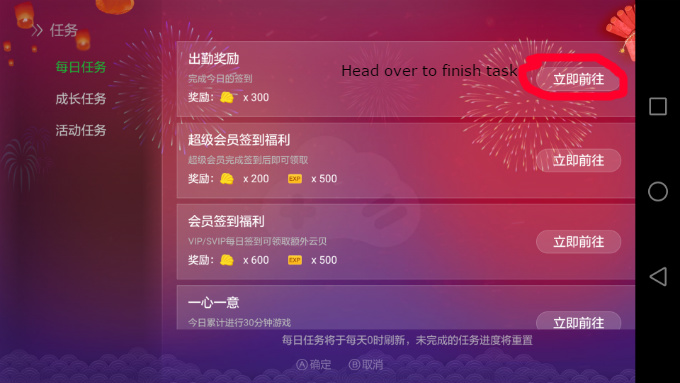 After finished the task, you can see the button as photo, tap it to get free cloud coin now.
Conclusion
There is no official English version of Gloud Games, so I don't want to introduce its English version. If you don't care security, you can find English version on the internet. After learning how to download Gloud Games, get full games with Gloud Games, earn free cloud coin. If you still have any questions on Gloud Games, welcome to leave a comment.
Related articles:
How To Play XBOX, PlayStation, PC Games On iOS With Gloud Games 2017
Play Xbox, PlayStation PS and PC Games W/O Download Game Client on PC With Gloud Games in 2017